April 13th 2022 – New WEEE Recycling Targets, Meet George and Plastic Packaging Tax
Keeping you up to date with all things waste
New targets to recycle Waste Electronic and Electrical Equipment – what it means for you
Bold new targets have been announced for the recycling of household Waste Electrical and Electronic Equipment in 2022. Waste Electrical and Electronic Equipment (WEEE) is the fastest growing waste stream in the UK, with households discarding over 2 million tonnes a year.
DEFRA have recently announced a challenging new target for collection and recycling rates for 2022 – with the expectation that 511,377 tonnes of waste household electronic and electrical items will be collected for recycling through producer take back schemes, household recycling and producer compliance schemes.
The new targets are higher than last year, despite the 2021 target not being met.
What does this mean for my business?
There is a duty to dispose of WEEE correctly and there's an obligation on producers to finance a portion of the collection target each year. Most producers do this through a Producer Compliance Scheme. Retailers also have a duty to offer take-back schemes to customers and deal responsibly with the waste items. Find out more, including whether you are classed as a producer, in our guide click here to find out more.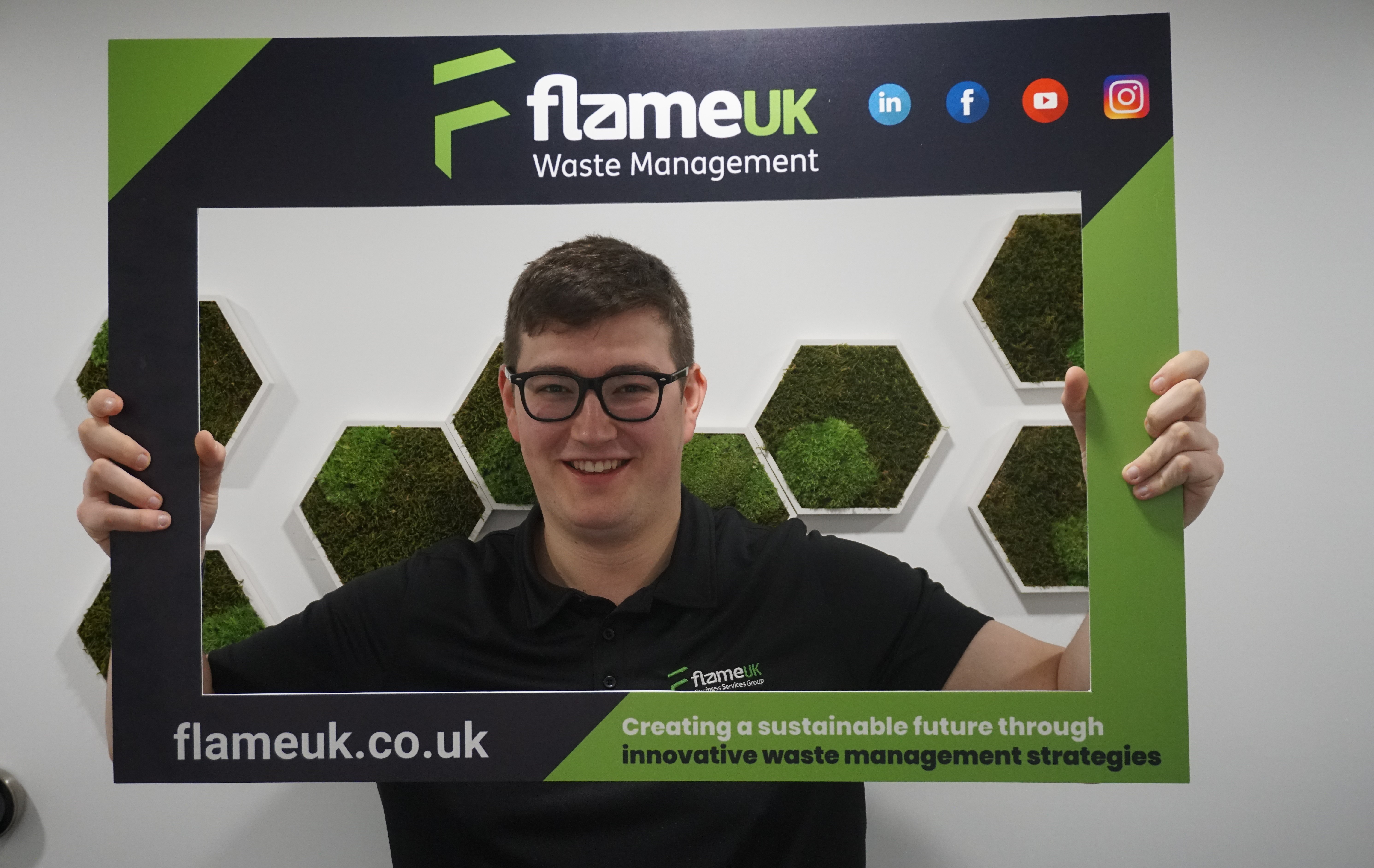 Today we'd like to introduce George, one of our Account Managers here at Flame UK.
George has great relationships with our clients and looks after all aspects of their waste management -making sure that everything runs smoothly on a day-to-day basis.
All of our clients have a dedicated account manager to make sure that everything runs smoothly on a day to day basis, sorting out any additional services or one of collections that are needed, and dealing with any issues that might arise.
George tells us how his clients can be sure that their waste is being dealt with correctly and that every waste stream can be accounted for:
"At Flame UK we use an industry-leading digital system for waste transfer notes. This makes it easy to ensure that every business has full compliance with waste regulations, and we know how every waste stream that we collect from each site is dealt with. Clients use this information to enable them to keep track of their waste, manage costs and improve their environmental credentials"
Over 77% of retail and manufacturing businesses have not heard about the new Plastic Packaging Tax
This week we've been reading about ….
The Government proposing to change rules on household waste created by DIY activities to try and cut down on flytipping – currently this is charged for by some councils at household waste sites. Read more here.
Delays for hauliers at Dover terminals mean that perishable goods are begin affected, leading to an increase in food waste. Click here for the full story.
© Copyright 2022 FlameUK. All rights reserved
Flame UK, Company Registration Number: 09423868. VAT Number: 295 379841.
Registered address: White House, Wollaton Street, Nottingham, NG1 5GF
Useful Links
Discover how AI-driven technologies, from smart bins to intelligent transfer stations, are reshaping waste management and changing the waste industry.
Read More